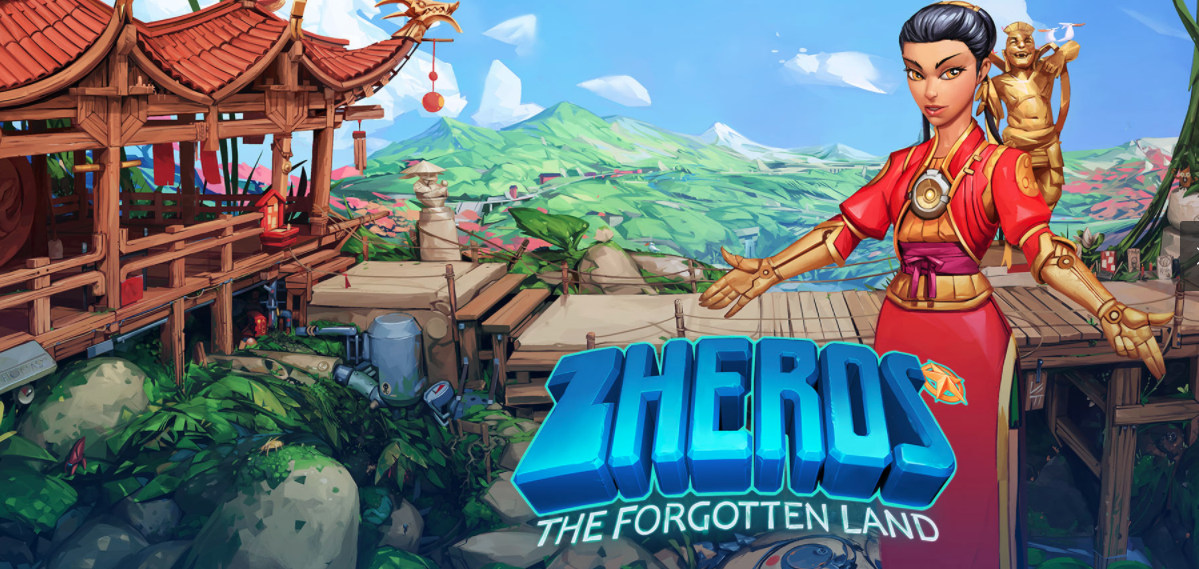 Il malefico Dottor Vendetta torna! E con lui Zheros che approda su PlayStation 4 con il primo dlc intitolato "The Forgotten Land", disponibile anche per le versioni Pc ed Xbox One.
Partiamo da subito con le novità  di The Forgotten Land.
Questo dlc aggiunge un nuovo personaggio, un nuovo veicolo, nuovi nemici, una nuova ambientazione molto asiatica, 8 nuovi stage e ovviamente una nuova e originalissima colonna sonora.
Citando "IL VIDEOGIOCO", sito di recensioni relative al mondo video ludico, ecco riassumendo cosa si dice in generale del gioco ed in particolare del comparto audio: << La nuova protagonista, di nome Thione, ha un vasto carnet di mosse piuttosto spettacolari ed efficaci. Le arti marziali, per lei non sono un segreto. Le ambientazioni colorate sono ben ispirate e ci hanno ben impressionato così come le musiche dedicate a questi stage dalle sonorità spiccatamente orientalegganti. Le meccaniche di Zheros sono piuttosto semplici e ricordano i classici degli anni '80 e '90 quali Double Dragon. In coppia il gioco diventa divertentissimo; la grafica è quasi cartoonesca e molto pulita. Bene il comparto sonoro con brani techno per i primi stage e musiche ispirate all'estremo oriente per The Forgotten Land. Chi vuole può anche acquistare la colonna sonora firmata da Giovanni Leon Dall'O' su Steam, Cd Baby, iTunes e tutti i maggiori store musicali online sotto il marchio di Shinesoundtracks, un'etichetta musicale indipendente di Ragusa >>.  Al momento comunque non è prevista una release delle tracce in stile orientale.
INTERVISTA al Compositore e alla Sound designer, Giovanni Dall'O' e Vera Sorrentino:
"Quali sono state le nuove sfide per la realizzazione di questo DLC?"
Giovanni: l'unione dei sound orientali al sound dei primi stage. Zheros ha esordito con una colonna sonora complessa e molto originale non inquadrabile in un genere ben definito, infatti si spaziava tra doubstep, EDM, Rock, Jungle, Alternativa, Hip Hop e Tech House. La nuova sfida? Aggiungere a tutto ciò anche un tocco di oriente utilizzando strumenti tradizionali cinesi! Creare nuove e avvincenti melodie che tuttavia non facessero dimenticare le sonorità  e il mood dei primi livelli non è stato semplice; tuttavia, una volta trovata la giusta ispirazione, il processo creativo va da se.
Vera: 8 nuovi paesaggi sonori, tanti nuovi nemici, una nuova eroina con una marea di combo, un nuovo veicolo e tanto ancora! La nuova sfida? Produrre un'infinità di nuovi effetti audio esclusivi in un tempo relativamente stretto. Ad ogni modo questo è il mio lavoro ed io lo faccio sempre con tanta passione! Il mio goal? Dare voce e anima a ciò che si vede partecipando alla definizione della personalità del progetto.