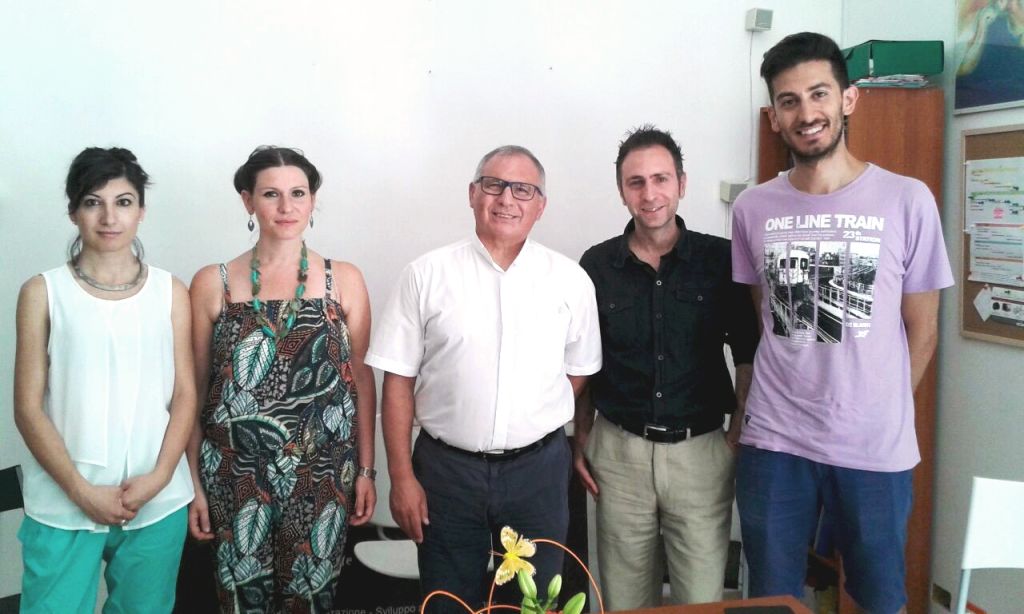 Si è entrati nel vivo della settimana che culminerà con i festeggiamenti del Santo Patrono di Ragusa e con la celebrazione della terza edizione del contest Sangiovart, in programma il 28 agosto, a partire dalle 21 in piazza San Giovanni a Ragusa.
A salire sul palco di Sangiovart 2015 saranno dodici artisti selezionati da un'apposita giuria tecnica ed anche grazie agli insight espressi su Facebook.
I finalisti per la Categoria SENIOR sono: Anna Tedeschi, Benedetto Gulino, Ottavia Raniolo, Rosy Castello, Alessia Pallavicino e le band Keep Out, VanHobb e To Breed Blast.
Per la Categoria JUNIOR i finalisti sono: Biagio Meli, Clara Rustico, Giuseppe Mallo e Caterina Corallo.
Nella sera della finale del 28 agosto, la giuria sarà presieduta da Roberto Cacciapaglia, celeberrimo pianista, autore di "Tree of life suite", musica composta per l'Albero della Vita, che il primo maggio 2015 si è acceso di suoni e colori per celebrare l'apertura di EXPO 2015.
Il Maestro omaggerà Ragusa con l'esecuzione di alcuni suoi brani, direttamente dal palco di Sangiovart. Il maestro Cacciapaglia sarà affiancato da  Alberto Asero, vibrafonista professionista e ideatore del Premio 'Giardini Naxos – Valle dell'Alcantara', e da Vincenzo Cavalli, rappresentante di Sonoria Studiorec.
Il giudizio dei tre, rispetto le esibizioni che si succederanno sul palco, decreterà i tre vincitori del contest. Chi si aggiudicherà il primo premio riceverà una produzione discografica di un brano con arrangiamento, registrazione, missaggio, mastering, videoclip, distribuzione su iTunes e promozione.
Nel corso della serata, ideata dall'Associazione Shine Records, e fortemente voluta dal Comune di Ragusa, dalla Cattedrale di San Giovanni Battista e dal Comitato dei festeggiamenti patronali, sono in programma le esibizioni degli ospiti.
Si tratta del cantante e compositore Didie Caria, dell'elegante interprete Deborah Italia, della band Onorata Società e delle vincitrici dell'edizione dello scorso anno di  Sangiovart, Sofia Minauda e Rosy Castello.
Tra gli ospiti anche Fabio Ilaqua della Rimlight Studios che presenterà il videogioco ZHEROS, le cui sonorità sono state curate da Shine Records. E per meglio coinvolgere il pubblico, per tutta la giornata del 28 agosto sarà presente in piazza San Giovanni uno stand dove poter provare gratuitamente le fasi di gioco del nuovo videogame che verrà distribuito da Microsoft per Xbox One e pc e dalla Sony per PS4.
Momenti di spettacolo saranno offerti dagli allievi della scuola Progetto Danza e dall'intervento della Compagnia G.o.D.o.T., in programma anche la proiezione del video di un estratto del musical "Chi ha del ferro" del regista Ruben Ricca, le cui musiche, a più livelli, sono state curate dall'Associazione Shine Records.
"Anche quest'anno – ha commentato Giovanni Dall'O', direttore artistico del contest – ci siamo impegnati affinché la valenza dell'iniziativa potesse essere pienamente rispettata. Al di là del momento di spettacolo che tutti noi vivremo il 28 agosto, ciò che maggiormente preme a noi organizzatori sono i risvolti che i vincitori del contest potranno avere in campo musicale, con la promozione delle loro produzioni e con l'inserimento in concorsi a livello nazionale e regionale. Gli alti livelli della giuria tecnica che ha compiuto le selezioni prima e di quella che decreterà i vincitori poi, ritengo siano una garanzia in senso assoluto e un valido passepartout per possibili strade che potranno aprirsi per i vincitori di Sangiovart 2015".
Infine nelle giornate del 27, 28 e 29 agosto in piazza San Giovanni sono presenti diversi stand di aziende che sostengono Sangiovart e che per l'occasione presenteranno i rispettivi prodotti, un'altra attrazione di questo prestigioso contest.