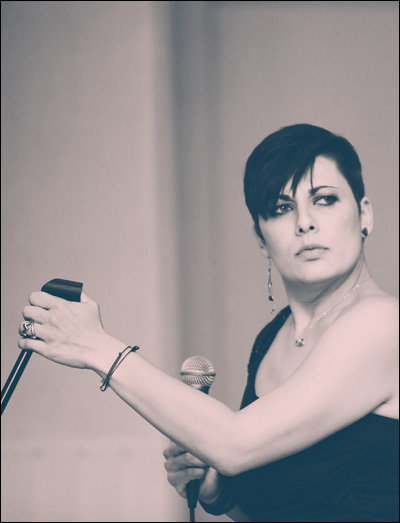 Alessandra Rizzo nasce a Livorno il 9 febbraio del 1980.
Cantautrice, Docente di canto moderno, esperta in Vocologia Artistica
Inizia giovanissima gli studi musicali a Livorno presso l'Istituto "P. Mascagni" dedicandosi allo studio del violoncello e conseguendo le licenze di teoria e solfeggio e pianoforte complementare.
Abbandonati gli studi classici si dedica totalmente allo strumento voce.
Si diploma a pieni voti con encomio presso l'Accademia Superiore di Canto Moderno e Jazz di Verona con indirizzo didattico sotto la guida di Karin Mensah.
Negli anni di Accademia approfondisce le seguenti materie: Tecnica Vocale, Pratica Vocale, Ricerca Vocale, Sensibilità Corporea e Coreografia, Laboratorio Vocale Jazz e Moderno, Grammatica Vocale, Laboratorio Teatrale, Laboratorio d'Improvvisazione Vocale Jazz, Tecnologia Musicale, Armonia Complementare, Pianoforte, Dizione Inglese ed Italiana, Laboratorio Ritmico, Ear Training, Drum and Voice, Laboratorio per autori e compositori.
Dedica particolare attenzione alla didattica del canto consapevole delle responsabilità che ogni docente ha nella formazione di un cantante e negli anni sente continuamente la necessità di dedicare particolare attenzione alla sua formazione.
Negli anni ha seguito i seguenti workshop e seminari:
-2009 CORSO DI RICERCA VOCALE E LABORATORIO TEATRALE con MARCO CANTIERI (attore, logopedista)
-2009 STAGE SULLA VOCALITA' CUBANA con MARIO CRESPO MARTINEZ (cantante, didatta cubano)
-2011 WORKSHOP DI IMPROVVISAZIONE VOCALE con BOB STOLOFF (docente Berklee di Boston)
-2011 SEMINARIO "IGIENE VOCALE E PREVENZIONE DEI TRAUMI FONATORI" con il Dott. Prof. Franco Fussi e con il Dott. Prof. Alfonso Gianluca Gucciardo
-2014 CORSO DI ARMONIA ED IMPROVVISAZIONE JAZZ con il Maestro Giovanni Mazzarino (pianista, compositore, didatta)
-2014 WORKSHOP MESSINA JAZZ con Giovanni Mazzarino, Paolo Fresu, Stjepko Gut, Enrico Intra, Maria Pia Vito, Franco Cerri, Fabrizio Bosso
-2015 CORSO DI PROPEDEUTICA MUSICALE con la Prof.ssa Laura Fermanelli
-2016 CIRCLELAND WORKSHOP con Albert Hera
Durante gli oltre 10 anni di insegnamento, sviluppa un metodo del tutto personale che fonde le competenze acquisite, pensando alla tecnica vocale "come un vestito da cucire perfettamente addosso" e tenendo conto delle naturali inclinazioni di ogni singolo allievo.
Ha seguito il Corso di Alta Formazione in Vocologia Artistica presso l'Università di Bologna permettendole di acquisire una conoscenza scientifica più approfondita degli aspetti della didattica della fonazione professionale e del canto studiando: Anatomofisiologia della voce professionale; Semeiotica; Clinica speciale; Didattica; Riabilitazione.
La sua tesi dal titolo "Il cerchio Imperfetto – Ritorno alla voce come mezzo primario di comunicazione e creatività" riceve una menzione speciale come miglior tesi al Convegno Internazionale della Voce 2017.
Ha seguito il Voice To Teach: corso di specializzazione per insegnanti di canto a Ravenna.
Ha svolto attività concertistiche con numerose formazioni pop, rock, blues e jazz, sviluppando una versatilità vocale che le permette di affrontare vari generi.
Attualmente concilia due mondi musicali, quello acustico con il Chitarrista Edoardo Musumeci e quello reggae con gli Original Sicilian Style, gruppo con tre dischi all'attivo.
Inoltre, si sta dedicando alla realizzazione del suo primo disco solista sotto la direzione artistica di Edoardo Musumeci e Riccardo Samperi.
E' docente di canto presso la Shine Music Academy.